120GB, 250GB, 500GB & 1TB USB 3.0 SuperSpeed SSD Drives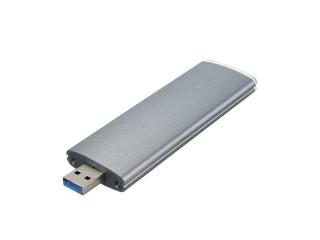 Looking for a high end super fast USB drive that works out of the box on GNU/Linux and across systems (no more permission issues)? Look no further than our Penguin USB 3.0 SuperSpeed SSD Drive. Now with support for multiple file systems, out of the box support on GNU/Linux (cross-system), and maximum OS compatibility:
select from EXT4, FAT32, or NTFS
.
Containing a high quality M.2 SSD drive inside you won't be disappointed. Smaller than a traditional USB hard drive and significantly faster than either a USB flash drive or traditional USB-style external hard drive. Users can expect to see speeds that are as much as 5x faster than an ordinary USB hard drive and as much as 50x times faster than many USB flash drives.
Sequential read speeds of up to 540 MB/s and sequential write speeds of up to 500 MB/s.


USB Standards Complaint: Works with USB 2.0 and 3.0 ports (2.0 @ reduces speeds)


No dependencies on NDISWrapper, binary blobs, or proprietary drivers-firmware


Supports all Linux and Linux-Libre (free) distributions with USB mass storage support


Note: This item is only available for shipping within the United States or when purchased with a computer.