2-in-1 Wired Bluetooth Multimedia Stereo PC Speakers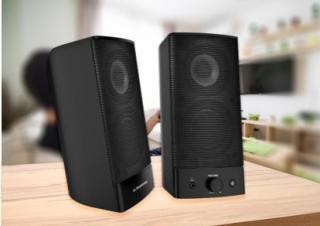 At 10W these are some of the best rated speakers for desktop and laptop computing on the market. With support for both wired and bluetooth devices you won't be disappointed.
Classic desktop PC speaker with built-in Bluetooth. One simple click switches between Bluetooth and Wired Aux-in mode


GREAT CLARITY: Experience enhanced stereo sound and clarity thanks to the built-in passive radiator, 10W of power and 2.0 channels


Support for all popular and libre (free) distributions


EASE OF USE: Front-panel access for power on/off, volume control, and Bluetooth pairing. A headphone jack for private listening, and a line-in for other audio devices


AC adapter included: Powered by the AC adapter - no need to charge. Without a built-in battery, this speaker lasts much longer than many battery-powered Bluetooth speakers in the market.
Note: Bluetooth adapter not included. All recently released distributions are supported out of the box.