24" Full HD LED Back-lit Monitor (TPE-ACER24)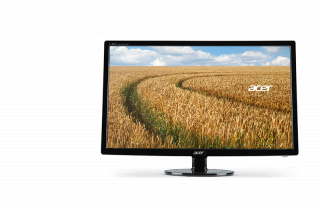 Designed to save space and minimally impact Mother Earth this monitor is super slim, and leverages various energy-saving, Earth-friendly technologies, including white LED backlighting, ENERGY STAR® compliance, and more.
VESA Mount: Save space and add drama to a room by putting this display on a wall. VESA mounting makes it easy.


Acer EcoDisplay: This display has an environmentally friendly design that focuses on recyclability, low power consumption, and more.


Full HD: 1920x1080 resolution in a 16:9 aspect ratio makes movies more real and dramatic. Small details and text are clear.


ACM: Whites are whiter, blacks are blacker and more detail is revealed in the shadows with Adaptive Contrast Management.


Acer eColor: Easily adjust display settings to best suit whatever you're viewing – data, media, movies or photos.
This monitor is supported by both recent and older distributions and releases on any computer with an HDMI, D-Sub (ie VGA), or DVI port.