The Debian Administrator's Handbook: Everything You Need To Know (TPE-DEBADBK)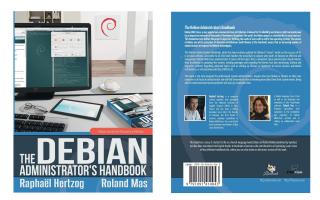 This book teaches the essentials of administrating a Debian system. It's intended for anyone who wants to become an effective Debian GNU/Linux administrator. It covers all the topics that a competent Debian administrator should master, from the installation and the update of the system, up to the creation of packages and the compilation of the kernel, but also monitoring, backup and migration, without forgetting advanced topics like Selinux/AppArmor setup to secure services, automated installations, or virtualization with Xen, Kvm or Lxc.
Intended For The Technically Minded: Go From Being An Intermediate User To A System Admin


Up-to-date: Updated For The Latest Release Of Debian


Learn to setup AppArmor, automate installations, and more


Not just for system admins: This book is also handy for those just administrating their own Debian system
Please note:
For those outside the US depending on what you are ordering please be aware adding this book to your shopping cart will limit your shipping options to ones that may be much more expensive if not ordering it with a computer. This book is primarily intended for shipping to customers within the US and will ship via USPS media mail due to its weight and cost unless other goods are purchased alongside it. Media mail may take longer to deliver than our normal postal shipping options.