HP B&W LaserJet Pro Printer (TPE-LAS404)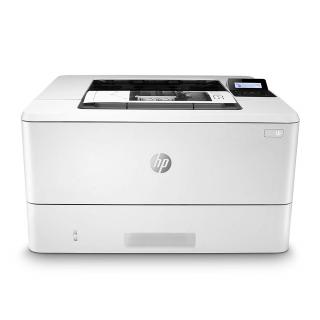 Don't want to spend excessively on ink? You've come to the right place. Printers aren't all alike particularly in terms of compatibility and support. We've taken the guesswork out of purchasing a fully supported printer that you can rest assured will continue to be supported across distributions and releases for years to come. We don't sell poorly supported printers for which are dependent on OS-level proprietary components, and thus you can be assured there won't be any hiccups upgrading your favorite distribution from one release to another. When we say supported we mean it'll work out of the box without following a tedious set of directions.
This HP Monochrome LaserJet Pro Printer comes with built-in Gigabit Ethernet and USB connectivity. This printer is fast and cost effective with support for speeds up to 40 ppm.
Want to see a GNU/Linux demonstration? Check out this great GNU/Linux demo video


Easy to setup: no drivers to install for printing (includes support for postscript for older distributions)


Upgrade with ease- continued support & no need to reload drivers manually with each upgrade


Support for all popular and libre (free) Linux distributions


Not dependent on OS-loaded binary blobs, or proprietary drivers-firmware


USB & Ethernet Built-in


2 paper trays (standard)
Category
Specification
Print speed
Print speed letter: Up to 40 ppm
Print resolution
Fine Lines (1200 x 1200 dpi)
Paper handling input, standard
100-sheet multipurpose Tray 1
250-sheet input Tray 2
Paper handling output, standard
150-sheet output bin
Product Dimensions (W X D X H)
15 x 14.06 x 8.5 in
15 x 25 x 9.5 in(maximum)
Product Weight
18.87 lb
23.1 lb (package weight)
Warranty
One-year, limited warranty, product exchange
First page out (ready)
As fast as 6.1 sec
Standard Print Languages
HP PCL 6, HP PCL 5c, HP postscript level 3 emulation, PDF, URF, PWG Raster
Duty Cycle (Monthly)
Up to 80,000 pages
Display
2-line backlit LCD graphic display
Standard & Max Memory
256 MB
Power
Power 110-volt input voltage: 110 to 127 VAC (+/- 10%), 50/60 Hz (+/- 2 Hz); 220-volt input voltage: 220 to 240 VAC (+/- 10%), 50/60 Hz (+/- 2 Hz) (Not dual voltage, product varies by part number with # Option code identifier)
495 watts (active printing), 5.5 watts (ready), 0.5 watts (sleep), 0.5 watts (Auto Off/Wake on LAN, enabled at shipment), 0.05 watts (Auto-off/Manual-on), 0.05 (Manual Off)
Paper Media Types
Paper (plain, EcoFFICIENT, light, heavy, bond, colored, letterhead, preprinted, prepunched, recycled, rough); envelopes; labels
Media Sizes Supported
Tray 1, Tray 2: A4; A5; A6; B5 (JIS); B6 (JIS); 16K (195 x 270 mm, 184 x 260 mm, 197 x 273 mm); 10 x 15 cm; Oficio (216 x 340 mm); postcards (JIS single, JIS double); envelopes (DL, C5, B5); Optional Tray 3: A4; A5; A6; B5 (JIS); B6 (JIS); 16K (195 x 270 mm, 184 x 260 mm, 197 x 273 mm); 10 x 15 cm; Oficio (216 x 340 mm); postcards (JIS single, JIS double); Automatic duplexer: A4; B5; 16K (195 x 270 mm, 184 x 260 mm; 197 x 273 mm); Oficio (216 x 340 mm)
Custom: Tray 1: 3 x 5 to 8.5 x 14 in; Tray 2, optional Tray 3: 3.94 x 5.83 to 8.5 x 14 in
Number of print cartridges
1 (black)
Connectivity
1 Hi-Speed USB 2.0; 1 host USB at rear side; Gigabit Ethernet 10/100/1000BASE-T network
Minimum HPLIP Version
3.19.6 (for full support, most older distributions also supported via postscript driver)
Replacement Cartridges
AMS: For distribution and use in North America and Latin America only: HP 58A Black LaserJet Toner Cartridge (~3,000 pages), CF258A; HP 58X Black LaserJet Toner Cartridge (~10,000 pages), CF258X; EMEA: For distribution and use in Europe, Middle East, Russia, CIS, and Africa only: HP 59A Black LaserJet Toner Cartridge (~3,000 pages), CF259A; HP 59X Black LaserJet Toner Cartridge (~10,000 pages), CF259X; APJ: For distribution and use only in Asia Pacific - excluding China (PRC) and India: HP 76A Black LaserJet Toner Cartridge (~3,000 pages), CF276A; HP 76X Black LaserJet Toner Cartridge (~10,000 pages), CF276X
Protocols Supported
TCP/IP, IPv4, IPv6; Print: TCP-IP port 9100 Direct Mode, LPD (raw queue support only), Web Services Printing, HP ePrint, Apple AirPrint™, Google Cloud Print 2.0, Mopria, IPP Print; Discovery: SLP, Bonjour, Web Services Discovery; IP Config: IPv4 (BootP, DHCP, AutoIP, Manual), IPv6 (Stateless Link-Local and via Router, Statefull via DHCPv6), SSL Security and Certificate management; Management: SNMPv1, SNMPv2, SNMPv3, HTTP/HTTPS, Syslog, FTP FW Download
Compatible with (note: HP compatibility info; TP does not support Mac/MS Windows/Android/or any mostly proprietary operating systems)
Windows Client OS (32/64 bit), Win10, Win8.1, Win 8 Basic, Win8 Pro, Win8 Enterprise, Win8 Enterprise N, Win7 Starter Edition SP1, UPD Win7 Ultimate, Mobile OS, iOS, Android, Mac, Apple® macOS Sierra v10.12, Apple® macOS High Sierra v10.13, Apple® macOS Mojave v10.14




Have questions?
E-mail support or call us at: 1-888-39-THINK (84465)




Supported distributions:
Parabola GNU/Linux-libre 2018.02.06, 2018.06.02, 2018.06.04, 2018.06.11, 2019.03.10, 2020.01.18, 2020.01.22, 2020.08.02, 2020.08.03, 2020.09
PrawnOS 1.00, 1.01, 1.02, 1.03, 1.1, 1.2, 1.3, 1.3.1
Ubuntu 19.10, 20.04, 20.10
Kubuntu 19.10, 20.04, 20.10
Lubuntu 19.10, 20.04, 20.10
Fedora 31, 32, 33
Slackware 14.2
Manjaro 20.2, 20.2.1
Most distributions not listed above with a recent release are supported out of the box and will detect and configure the printer for use upon connection automatically. Most older releases will work with the printer via the postscript driver, but won't be automatically detected. Running the add printer wizard and manually selecting the appropriate post script driver is required for these releases. If you have any questions please feel free to
contact us
.
Notes: Introductory Cartridges (1, up to 3000 pages), printer, and power cable included. USB & LAN cables sold separately.
We are unable to ship this item to the following countries and/or regions:
Canada, South America, Africa, Asia, Mexico, Russia, Greenland, Iceland, New Zealand, Japan, India, Pakistan, Iran, the Pacific Islands, any other islands, and the middle east.