Penguin Key'd Backlit Mechanical LED Keyboard (TPE-PENKEYBD)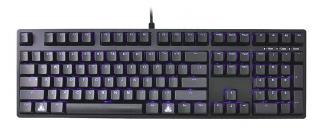 Don't get just any keyboard! Get the best- our custom manufactured mechanical
Penguin
keyboard is designed for
GNU / Linux
users. The keyboard ships with two tux super keys to ensure you won't be embarrassed around your friends any longer. Providing an optimal user experience the keyboard comes with high quality Cherry MX blue switches for a clicky feel straight out of the 1980s.
Genuinely Penguin friendly with all critical keys supported out of the box


3 Built-in preset layouts, qwerty, dvorak and colemak, switching layouts can be done exclusively with keyboard bindings (no software needed)


Blue color backlighting: with 9 custom lighting modes to pick from


Connects to any recent computer: USB A cable included


No dependencies on NDISWrapper, binary blobs, or proprietary drivers-firmware


Ideal compatibility: Compatible with standard backlit Cherry MX keys (ships with a US QWERTY keyboard layout)
Watch a video demonstration of the keyboard in action!
Note to those outside the United States: The item is only available for shipping from our US warehouse and the price on this item does not include VAT/GST/PST or other taxes/duties.