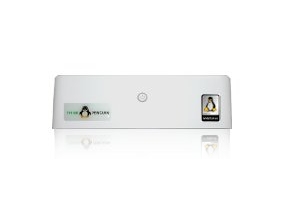 The Penguin Wee retains a uniquely small footprint at just 8 x 8 x 2.5". The new 4th generation includes the choice of a more powerful Intel® Core™ i3-4130T (3M Cache, 2.90 GHz) or an Intel Pentium G3220T 2.6Ghz 4th Generation Haswell processor, support for HDMI, DVI, VGA, USB 3.0, Intel HD (G3220T) or 4400 graphics (i3-4130T), and much more.
Up to an Intel Core i3 processor with support for up to 1080p HD video


Expandable up to 16GB of DDR3 ram


Support for most popular and libre (free) Linux distributions


Not dependent on binary blobs, or proprietary drivers-firmware


Category
Specification
North Bridge Chipset
Intel H87
Graphics
Intel HD (G3220T)
Intel HD 4400 (i3-4130T)
Memory
Up to 16GB DDR3
Audio
Realtek ALC892 (7.1 Channel)
Graphics Ports
D-Sub (ie VGA) + DVI + HDMI
LAN support
10/100/1000Mbps
Peripheral interfaces
1 x PS/2 keyboard/mouse port
2 x USB 2.0
4 x USB 3.0
1 x eSATA
1 x Optical
5 x Audio Ports
Size
198mm x 198mm x 60mm
Power Adapter
External
AC Adapter Specifications
60 Watt AC-DC 12V-5A
AC INPUT: 100 ~240 VAC, 50~60Hz
DC OUTPUT: 12V, 5A, 60 Watt
Power Cord included
5mm/2.5mm barrel power jack
RoHS compliant
Default configuration:
Ubuntu
Compatible with
Microsoft Windows 7
(we do not offer technical support)

FreeBSD & PC-BSD 10 passed basic tests of: audio (playback), USB, and proper video resolution (3d acceleration was not tested), ethernet does not work (is probably coming though in a future release)




Have questions?
E-mail support or call us at: 1-888-39-THINK (84465)




Penguin Support: 1-888-39-THINK (84465)
Price
Computer Setups (includes net, monitor, keyboard, mouse, and printer hook-up, 3GB data transfer, 1 program install, and intro lesson)
$34
USB Peripherals Setup/Tutorial
(Printers, Portable Audio Players, etc.)
$19
Operating System Installs
$49
Software Installations
$29
Networked Peripherals Setup/Tutorial (Printers, etc.)
$29
Data Transfers of up to 3GB
$19
Data Transfers of up to 10GB
$39
Data Transfers of up to 99GB
$49
Diagnostics
$54
Upgrades/Repair (per half hour; if no others apply)
$55
Phone Support (per half-hour / non-warranty)
$39
OS Media
$24
For In-Home/Office Service Add
$99
For Mail-In Service Add (Per Computer)
$44
Supported distributions:
Trisquel 6, 6.01, 7
Ubuntu 13.10, 14.04, 14.10
Lubuntu 13.10, 14.04, 14.10
Kubuntu 13.10, 14.04, 14.10
LinuxMint 16, 17, 17.1
Peppermint Linux OS 5
Fedora 20, 21
OpenSUSE 13.1, 13.2
Mageia 4
Slackware 14.1
ZorinOS 8, 8.1, 9, 9.1
Parabola 2013.09.01, 2014.06.01, 2014.10.07, 2015.02.21
* Compatible with most other recent distributions.