USB 3.0 Slim Portable Hard Drive (500GB-2TB, TPE-USB3SLHDD)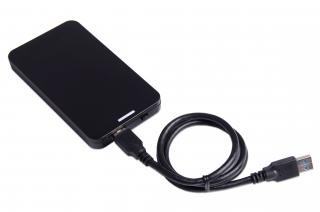 Looking for more storage? Add up to 2TB of additional space to your computer with an external USB hard drive that works "out of the box" with your favorite GNU/Linux distribution. This drive offers users a reliable high-capacity storage option and formatting options that will work with any computer.
No more worrying about whether or not your external storage system will work between systems. With multiple formatting options available you can
overcome filesystem permission issues
between GNU/Linux systems or get achieve wider compatibility among different operating systems.
Build off high quality components: Uses a reliable traditional 2.5" laptop disk drive


USB 3.0 complaint: Works with USB 2.0 and 3.0 standard type-A ports (2.0 @ reduced speeds)


No dependencies on NDISWrapper, binary blobs, or other OS-loaded proprietary drivers-firmware


Supports all Linux and Linux-Libre (free) distributions via compliance with USB mass storage standards


Note: This item is only available for shipping within the United States or when purchased with a computer.