Wireless Keyboard & Mouse Combo (TPE-WIRKEYMSE)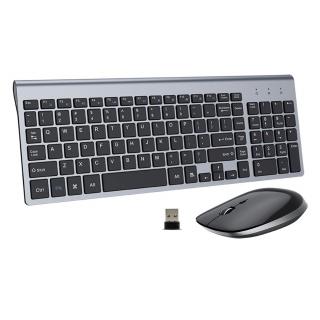 Don't like the wires? Get our Wireless Keyboard & Mouse Combo package. This unit ships with a wireless 2.4Ghz keyboard and mouse.
Genuinely Penguin friendly with all critical keys supported


Full Size & Ultra-thin Keyboard: 14.5x5.8x0.2in With 102 Keys


Includes one 2.4Ghz nano receiver for keyboard & mouse


2.4Ghz: Not reliant on Bluetooth (which can be more problematic in certain scenarios)


No dependencies on NDISWrapper, binary blobs, or OS-loaded proprietary drivers-firmware


Numpad & arrow keys: Yes!


Requires Batteries: 2 double A batteries for mouse and 2 double A batteries for keyboard (not included)


Special function multimedia keys: Some will work by default and others can be set with standard desktop environment utilities
Watch a video demonstration of the keyboard in action!
Note to those outside the United States: The item is only available for shipping from our US warehouse and the price on this item does not include VAT/GST/PST or other taxes/duties.