12 Outlet Surge Protector w/ 3 High-Speed PowerIQ USB Charging Ports (TPE-ANK2762)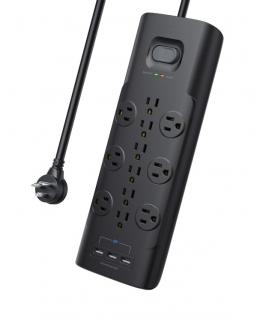 Protect your investment with a surge protecting power strip. This high quality surge protector comes with 12 Outlets and 3 PowerIQ USB A ports for faster charging of your compatible devices (4000 Joules).
Power for all your devices: 12 AC outlets and 3 USB ports


Surge Protection: The 12 AC outlets provide a 3-line 4000 Joule surge protection energy rating


High-Speed USB Charging: Save up to 1 hour of charging time vs your device's out-of-the-box charger


Convenience: 4 keyhole mounting slots on the base enable mounting to a wall or desk


Cable Length & Watts: 6 ft cable with input of AC 1875W


Compatibility: Input: AC 100V-144V, Output: 15.5W, 5V ⎓ 3.1A total


Size & Weight: 12.9 x 4.7 x 1.4 inches & 31.8 oz
Notes: Only compatible with US voltages and the total wattage of connected devices must not exceed 1875W. This product will work with US-style plugs only and any GNU/Linux compatible hardware you may own.