4K@60Hz HDMI KVM Switch With USB For Up To Two Computers (TPE-KVMSWITCH)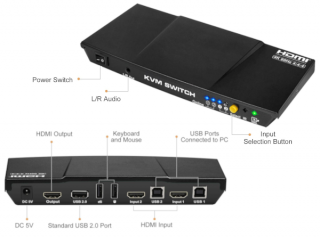 Control up to two computers with one monitor, keyboard, and mouse. Most KVM switches are a pain to use and clunky, but not this switch. With support for fast switching and keyboard/mouse emulation you can confidently and reliably switch between two computers. This KVM switch is genuinely penguin friendly with all recent distributions and releases supported out of the box.
The switch has a USB 2.0 port for connecting devices such as a scanner, printer, or similar device


No dependencies on NDISWrapper, OS-loaded binary blobs, or proprietary drivers


Support for all popular and libre (free) distributions


The KVM switch ships with a remote control for easy switching between different systems


Supports up to 3840x2160 @ 60hz with EDID emulation to maintain resolutions & icons when switching


Hotkey and gesture switching supported on mouse and keyboard USB port, but not keyboard multimedia keys
Notes: Includes all cables except cable for monitor and CR2025 battery for remote not included as well.