Dirty Fiat Grudgingly Accepted, Cryptocurrencies & Goldback Preferred Sign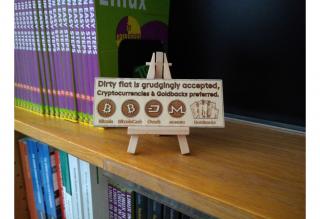 Protect yourself from government intrusion with a twist on the popular 'Bitcoin Accepted' stickers. Let customers know that not only do you accept Cryptocurrencies and Goldbacks, but that you prefer them! While cryptocurrencies & gold may not be perfect, at least they're solutions or a start thereof to government meddling in the affairs of freedom loving people everywhere.
Great for informing customers that you take Cryptocurrencies & Goldbacks!


The perfect size: 6 x 2.32 inches


Materials: Wood


Quality Assured: Not happy? We have a 14-day guarantee!


This is for quantity (1) sign. The mini sign stand sold separately. See option to include stand below.