Ed Snowden, Enemy of The State, Hero for the rest of us Bumper Sticker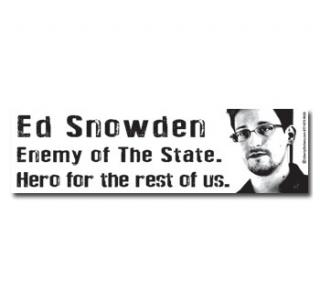 Edward Snowden came to international attention after disclosing to several media outlets thousands of classified documents that he acquired while working as an NSA contractor. Snowden's leaked documents revealed numerous global surveillance programs, many of them run by the NSA and the Five Eyes with the cooperation of telecommunication companies and European governments.
A subject of controversy, Snowden has been variously called a hero, a whistleblower, a dissident, a patriot, and a traitor. His disclosures have fueled debates over mass surveillance, government secrecy, and the balance between national security and information privacy.
Use Firefox? Get the Privacy Badger from the EFF and limit the excessive invasion of your privacy.


Now with faster shipping options available!

In the USA or Europe?

Get it in as little as 1-5 business days.

Within Europe order alongside another accessory or part that is also available from our UK warehouse and receive this item in just 1-5 business days (by selecting UK Royal Mail as your shipping option!)

And within 6-10 for most other major destinations world wide.
Regardless of shipping options selected larger orders will always ship from our US warehouse (and generally may take longer to arrive).