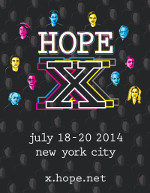 HOPE X will take place on July 18, 19, and 20, 2014 at the Hotel Pennsylvania in New York City. H.O.P.E. stands for Hackers On Planet Earth, one of the most creative and diverse hacker events in the world. It's been happening since 1994.
Join us for three full days and nights of activities, including more of the provocative and enlightening speakers that the HOPE conferences are known for. Featured speakers have included Julian Assange, Kevin Mitnick, Richard Stallman, Steve Wozniak, and William Binney, amongst others. One of this years featured guests will be Edward Snowden.
Past HOPEs have had huge hackerspace villages, film festivals, Segway rides, lock picking villages, a wide variety of vendors, art installations, live video, vintage computers, robots, an amateur/ham radio station, electronics workshops, book signings, and the country's biggest supply of Club-Mate.
Now imagine all of that happening right in the middle of New York City, across the street from Penn Station and down the block from the Empire State Building.
For more information check out the official web site.