LibreOffice Getting Started Guide: The GNU/Linux Office Suite (TPE-LIBOFBK)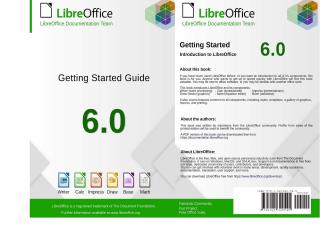 LibreOffice is a full-featured office suite for GNU/Linux. LibreOffice Getting Started Guide is aimed at those wanting to get up to speed quickly and easily with LibreOffice 6. It introduces Writer (word processing), Calc (spreadsheets), Impress (presentations), Draw (vector drawings), Math (equation editor), and Base (database). This guide was written by volunteers from the LibreOffice community.
Illustrated: An excellent near 400 page paperback book you can actually hold in your own two hands!


Up-to-date: The book covers recent releases of LibreOffice included in most popular distributions
Please note:
For those outside the US depending on what you are ordering please be aware adding this book to your shopping cart will limit your shipping options to ones that may be much more expensive if not ordering it with a computer. This book is primarily intended for shipping to customers within the US and will ship via USPS media mail due to its weight and cost unless other goods are purchased alongside it. Media mail may take longer to deliver than our normal postal shipping options.