Mini USB DAC With Analog Output, Coaxial / Optical Digital / Headphone Output (TPE-USBMINDAC)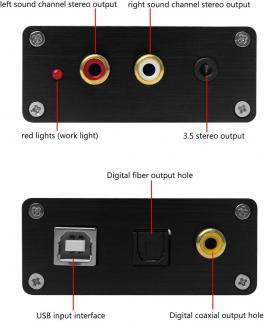 Get better clarity, this DAC lets you distinguish instruments better and appreciate the music. Digital output signal after fever isolation transformer DV709 filtering, the sound quality more perfect. Full-featured, with analog output, coaxial / optical digital output, headphone output, directly as a USB sound card. This is a USB DAC, not USB audio.
Support Sample Rate: 16 Bit 32k, 44.1k, 48k


Coaxial and fiber optic signal IC for high-speed data


Digital output signal isolation transformers fever DV709 digital filter


Compact, portable, includes input and output sockets


High end USB chip PCM2704: Properly supported by all distributions in GNU/Linux


Distortion THD + N: .006% (RL> 10 kΩ), Distortion: THD + N: .025% (RL = 32 Ω), SNR: 99 dB, Dynamic range: 99 dB
This device only provides 2 sound channels, right and left. It does not support 5.1 surround or AC3.