RS-232 DB9 Serial to USB Adapter for GNU/Linux (TPE-SERLDB9)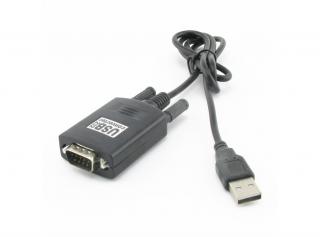 Are you in the market for a RS232 DB9 serial adapter? Don't get just any adapter. Get an adapter that has proper support under GNU/Linux. Many adapters on the market utilize chipsets that don't have drivers for newer operating systems and/or utilize chipsets that don't have proper support under GNU/Linux.
Brand new and high quality


Utilizes a widely supported prolific PL-2303 chipset (and device ID)


USB to RS-232 (DB 9-pin male serial port) interface


Support for most popular and libre (free) distributions too!


Not dependent on binary blobs, or proprietary drivers-firmware


Supported on Linux since kernel 2.5.45: Uses driver/module usbserial_generic
This adapter will work with all recent distributions and releases.
Please note: While you may be able to get this adapter working on certain other proprietary operating systems it's not optimal due to dependencies on proprietary components and poor support particularly for newer operating system releases and we do not offer support outside of GNU/Linux and other free software operating systems.