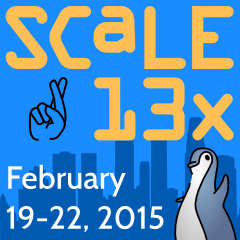 SCALE 13x – the 13th annual Southern California Linux Expo – takes place on Feb. 19-22, 2015, at the Hilton Los Angeles Airport hotel. As the first-of-the-year Linux and Free/Open Source Software (FOSS) expo in North America, SCALE 13x expects to host more than 100 exhibitors this year, along with nearly 130 sessions, tutorials, and special events.
Held annually in Los Angeles, SCALE is the largest community-run FOSS conference in North America.
If your in attendance come visit us @ the ThinkPenguin booth and see what we have to offer. This is the perfect opportunity to see a bit of our catalog up close and personal. We'll be bringing laptops, desktops, accessories, and other awesome toys. We'll also be giving away some awesome swag. Free tux's for everyone!
Register now and get 40% off! (coupon / promo code: THINK)