A Stuffed Tux Penguin For Your GNU! (TPE-STFTUXPEN)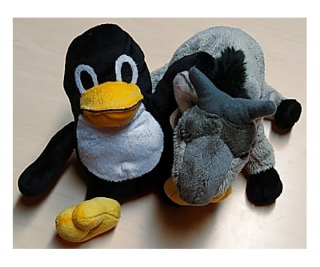 We know you already have a Stuffed Baby GNU, but don't you think you aught to consider adding a stuffed Tux to your collection too? After all he's a pretty critical component of the pair! This cuddly plush penguin really wants to be part of your family. Tux is just 5-6" tall and will fit nicely next to your baby GNU!
Tux is the mascot of the Linux kernel, a core component at the heart of every GNU/Linux system. The GNU project pre-dates Linux and consists of the core collection of free software that makes up a GNU/Linux distribution. The project has a slightly less imaginative mascot represented by a GNU. However, it's name is quite entertaining: GNU is a recursive acronym for "GNU's Not Unix!".
Note: The GNU in the picture to the right is NOT included in this purchase. What you are getting is JUST a stuffed penguin, Mr Tux. If we're mistaken and you don't already have a GNU consider checking out the Free Software Foundation's shop. The FSF sells a Stuffed Baby GNU. It's purchase helps to fund the Free Software Foundation whose mission includes the promotion of free software, the GNU project, and the ideals thereof!