USB 3.1 Gen 2 Powered Hub w/ SD Card Reader & SATA 3.0 Connector (TPE-PDHBCRD3)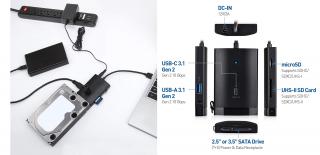 Don't go with just any powered hub or card reader, but get one that does everything and fast! This power hub can achieve speeds up to twice that of a typical USB 3.0 device. Unlike other hubs this one includes a card reader for microSD (SDHC, SDXC, UHS-I) and SD (SDHC, SDXC, UHS-I & UHS-II) while also having support for connecting traditional 3.5" and 2.5" SATA drives (SSD and traditional hard drives; ie [7+15] receptacle), as well as provides a single USB-C port and a single USB-A port for connecting additional USB accessories.
Host connector: Achieve the fastest speeds by connecting hub to a USB-A 3.1 Gen 2 port (backward compatible with 3.0 at 5Gbps)


Provides connecting additional USB devices utilizing a USB-A port & USB-C port 3.1 Gen 2 10Gbps


Includes short 6 inch cable to reduce stress on the USB port


Works with every distro: No dependencies on proprietary OS loaded binaries or drivers


Support for all popular and libre (free) distributions


Dimensions: 3.5 x 2.3 x 0.6 inches
Please note that this includes a US power adapter which may not work outside the United States. The adapter will otherwise work when powered off a USB-A port however without additional powered being supplied for devices that require additional power.