Verbatim 50GB 6x BD-R DL Blu-ray 25 Pack Spindle (TPE-50GB6XBDR50)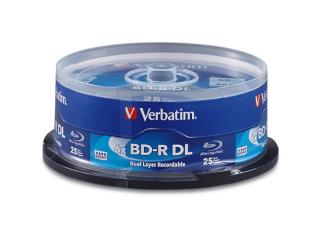 If you are looking for high quality Blu-ray discs that are compatible with your Blu-ray writer look no further. After substantial testing we've selected some of he best discs on the market with low failure rates (assuming appropriate burn settings) for inclusion in our catalog.
25 high-grade, non-rewritable BD-R discs, OEM certified, with a one hundred year archival life


Verbatim Blu-ray discs are treated with Hard Coat to prevent scratches, resist fingerprints and reduce dust build-up


Double-layer discs offer up to 50GB of storage space to back-up your HD video, music and photos with superb resolution and amazing sound quality


Note: This item is only available for shipping within the United States.