Shirts, CDs, & Case Badges for GNU/Linux
One of the best quality Bitcoin t-shirts out there. It's comfy, bold, and sure to start bitcoin conversations wherever you go.
Bitcoin was launched on January 3, 2009 by pseudonymous developer Satoshi Nakamoto. It's a free software public ledger whose current largest application is the transmission of currency units (bitcoins) To learn more about Bitcoin and its ecosystem, start on the Bitcoin wiki, and check out Bitcoin Talk, the most popular Bitcoin forum.
Gender: Unisex
Note: Ships from the United States via US postal service only no matter what shipping option is selected.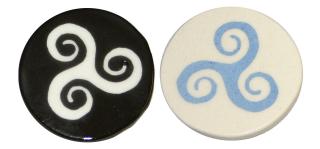 Are you a free software activist? Do you use Trisquel? Show your support for the project by buying a Trisquel Magnet. Not only does 100% of the profits from these magnets go toward funding the project these magnets were hand made by the lead developer Rubén Rodríguez. We have a very limited number of these magnets available so get them while they last!
Please note that this item only ships from the United States.
Show your support for free software with a high quality aluminum case badge!
Aluminum base
Secure adhesive
1.175 x 0.75 in / 3.175 x 1.9 cm
We ship world-wide
Free shipping within the US and inexpensive shipping internationally
For large quantity orders contact support for a quote.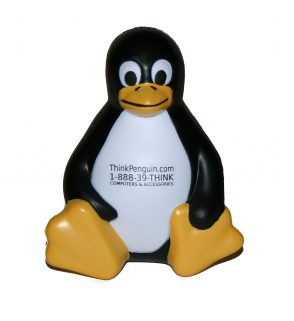 Are you in love with the Tux? Under a lot of stress? Get our penguin stress toy! This pleasant bird is more than happy to watch you while you work and won't mind when you give him a little squeeze.
3 1/4" High x 2" Wide x 1 3/4" Deep


High quality


Non-toxic


Made of Polyurethane


World-wide shipping available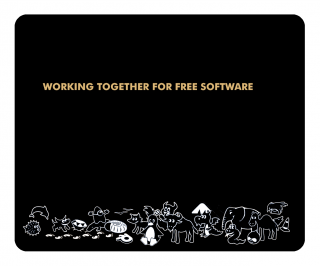 Get a high-quality mouse pad with some flair for your computer!
World-wide shipping


Just the right size: 9.25 x 8.75


High quality materials


* Mouse pad image is available under
GNU Free Documentation License 1.3
Linux Mint is a modern, elegant operating system which is both powerful and easy to use. Started in 2006, Linux Mint has quickly become one of the most widely used desktop operating systems in the world.

Much of its success has been the result of:
Having excellent out of the box support for multimedia
Being based on the best commercially supported desktop distribution, Ubuntu
Having excellent community and commercial support
Taking a transitioned approach to new user interface design ideas
Installation support is available for 6 months from the date of purchase.

* multimedia support not included on DVDs although available at the time of install provided there is an Internet connection
Show your support for GNU/Linux with a high quality aluminium case badge!
Aluminum base


Secure adhesive


1.175 x 0.75 in / 3.175 x 1.9 cm


We ship world-wide


Faster shipping: available from the UK & US (quantities less than 10)
For large quantity orders
contact support
for a quote.
Ubuntu is a commercially developed, easy-to-use, debian-derived version of GNU/Linux that focuses on usability, a regular 6-month release cycle, and a commitment to support for at least 36 months for long term releases.
Includes the Ubuntu Software Center for purchasing non-free commercial software


The leading commercial desktop GNU/Linux distribution


Commercial support available
Support is available for 6 months from the date of purchase.